Point 16 is like no other wedding venue in North America.  To understand the what & why of the place, you need to wrap your head around exactly where Point 16 is in Big Sur, or for that matter in California.  There is no website for Point 16 & it's on private property, therefore I will try to include a bit more info about the place than I normally would in a typical blog post;)  Please note:  this is my personal take based on photographing several weddings at Point 16 & my facts are from Google Earth & dead reckoning by & large;)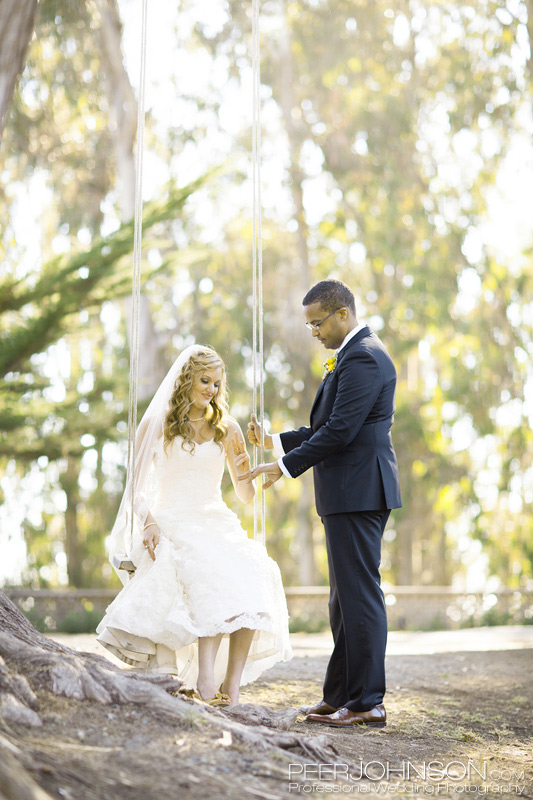 There are a gazillion microclimates in Big Sur & Point 16 is located in a prime one. The prevailing winds are blocked by the nearby Point Lopez, creating a windshadow that normally leaves clear weather with temperatures between 65 & 75 degrees. I have never seen it get uncomfortably windy during the prime wedding season at Point 16. There are no large indoor facilities at Point 16, excluding the Bridal Cottage & the bathroom aptly called The Loo With A View. The kitchen is entirely outdoors & guests can watch all the food being prepared en plein air. Cheri Gladstone's A Big Sur Affair Catering manages Point 16. They make sure you receive the best, cuisine, service & experience for your big day!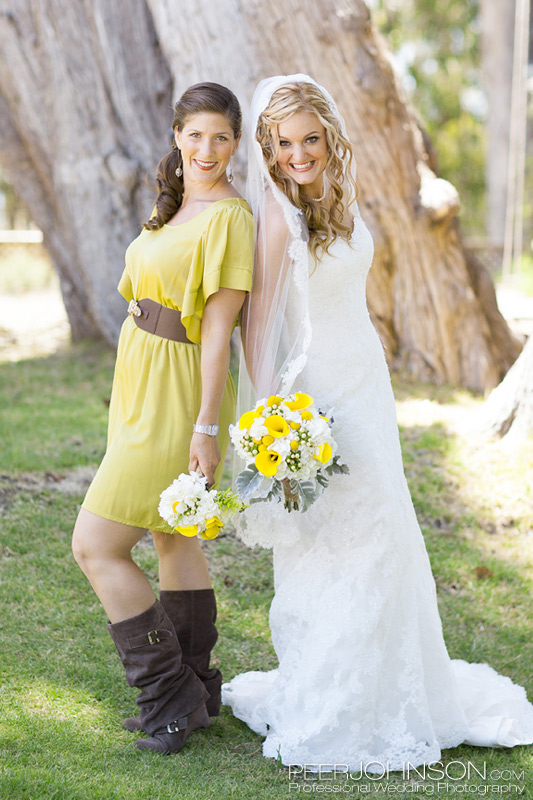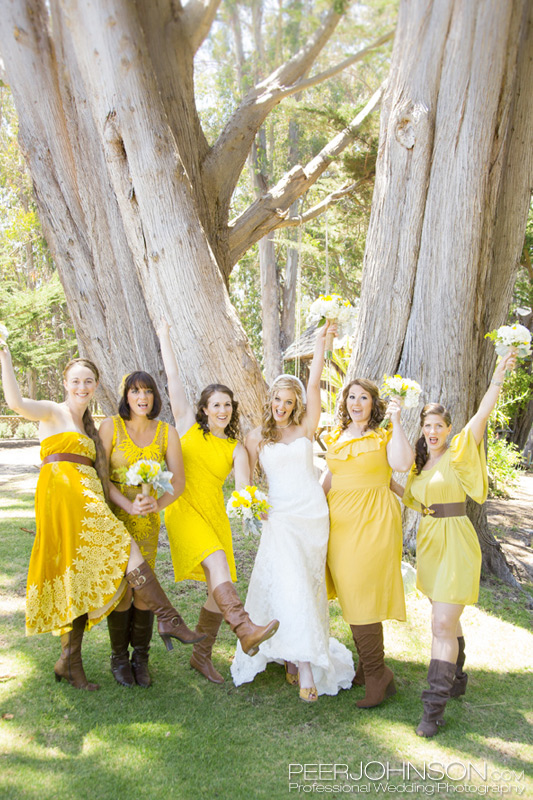 There is no cell service, thank god, and guests are shuttled in by bus from Big Sur proper some 25 miles away. This gives guests a chance to see the dramatic Big Sur coastline, while getting to know each other a little. Patience with every aspect of planning to the day-of is a must for any wedding in Big Sur.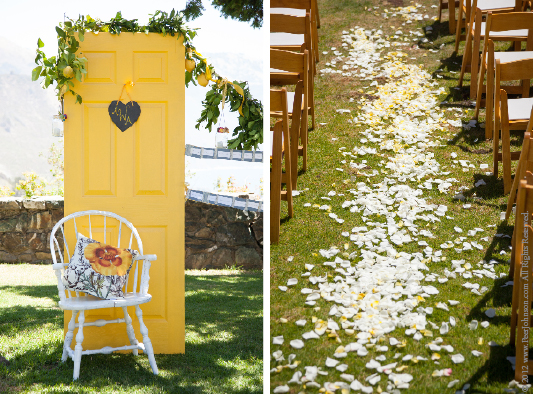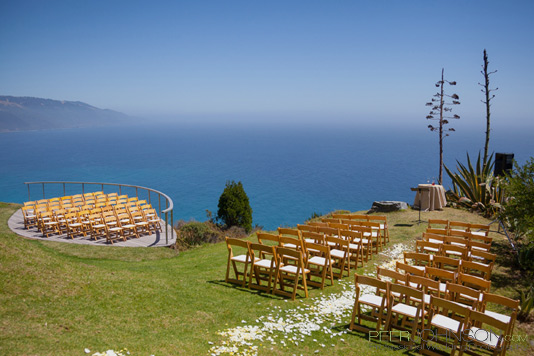 The elevation of Point 16 is 550 feet. From the ceremony site, a dramatic cliff descends to an inaccessible rocky beach in about 700′ or so. It's basically straight down – if you feel like you're on the edge of a 500′ cliff that's because you are. It's spectacular. The grounds are approximitely 5 acres with the main part being the large lawn overlooking the ceremony site. My guess is that the main lawn is about 2 acres, plenty of space for everything, with a hidden field for vendor parking closer to the highway . Giant Eucalyptus trees along with Cypress trees, greenery & a garden comprise the balance of the property. The dancefloor is perched near the edge of the slope that overlooks the ceremony site.
The ceremony site at Point 16 is on a ridge with dramatic dropoffs on both sides. The ridge extends due west from the main lawn. Guests can look up & down the Big Sur coast for miles. Cape San Martin is visible to the south some 10 miles away with Point Lopez to the north 1.5 miles distant. There is little to no light noise at night. This stretch of the Big Sur Coast is probably the least populated or developed in any stretch of Big Sur. Cone Peak looms directly behind Point 16 at an impressive 5155 feet. The summit descends to sea level in about 3 miles making it the greatest elevation gain in the shortest distance in North America – yes that's true;) Unfortunately you can't see Cone Peak from the grounds at Point 16, although the mountains leading up the slope are equally majestic.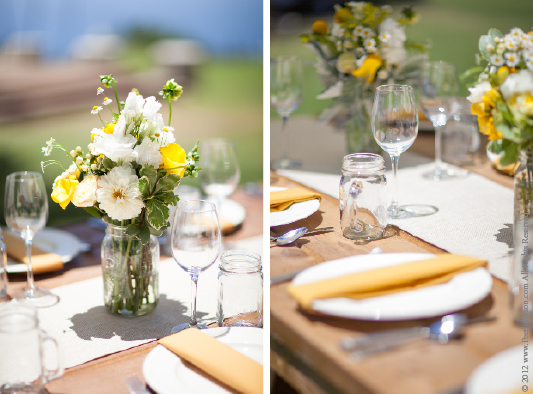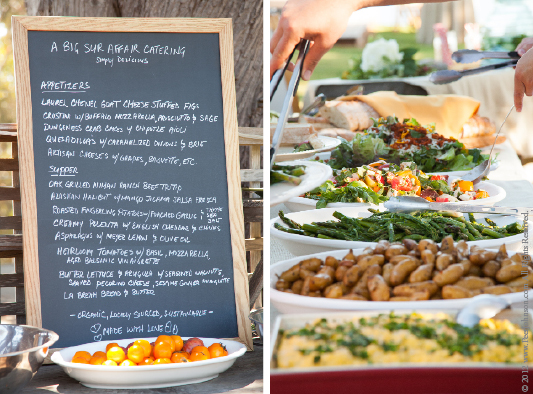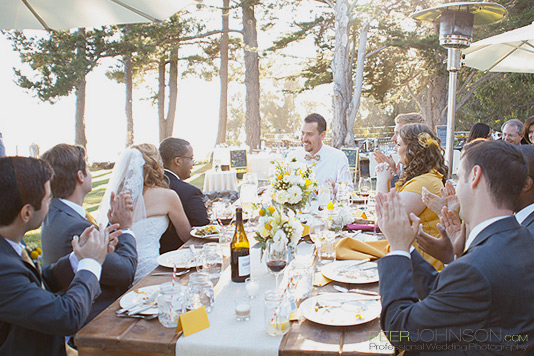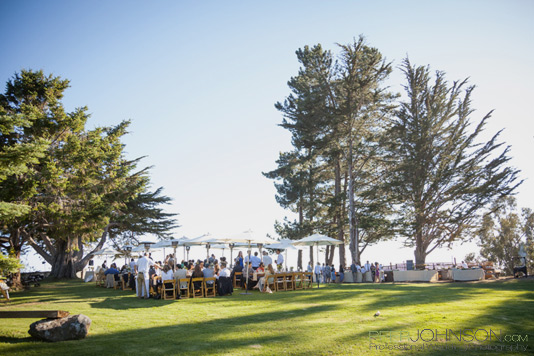 Point 16 is a spectacular place for the perfect Big Sur wedding. To my knowledge, there are only a handful of Big Sur venues that can comfortably handle 60-160+- guests in Big Sur. Prices range quite a bit on them, and Point 16 is a great, affordable place to have a classy wedding that you & your guests will never forget;) Insider tip; it books up fast & as far out as allowed.
Photographer; Peer Johnson (contact me here)
Ceremony & Reception; Point 16 Big Sur (Cheri Gladstone with A Big Sur Affair Catering handles the property)
Cocktails & Dinner; A Big Sur Affair Catering