This beautiful Carmel wedding was featured by Martha Stewart Weddings as "A Light and Airy California Wedding with Tons of Personal Details". The air was electric all day & night – large families coming together with lifelong friends made for a casual yet affectionate energy. As I've mentioned before, I'm not a big blogger. There are easily 20 weddings I've photographed for every 1 wedding on my blog:) And, the submission process for publishing requires exclusivity for a significant period of time. Meaning, when you submit a wedding to Martha Stewart, The Knot or others you agree to refrain from blogging or publishing all images for up to 6 months or more. This one was held for 1 year.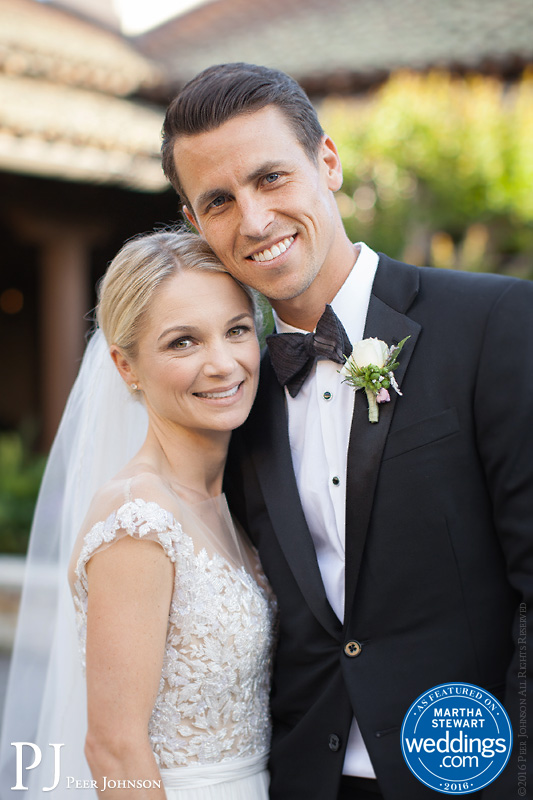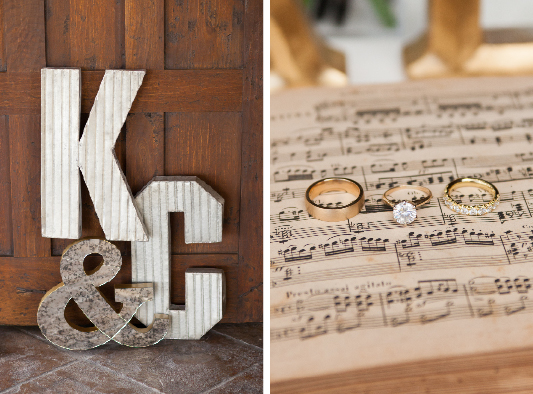 A Bridesmaid at another Carmel wedding I photographed, referred me to this wonderful couple. A top notch team assembled at Carmel's exclusive Tehàma Golf Club – Clint Eastwood's private hood with a few thousand acres of oak studded rolling hills with views from Monterey Bay to Carmel Valley. The venue is gorgeous, the crowd was rowdy & ready for a good time, and the couple what can I say – they were ready to tie the knot all the way:)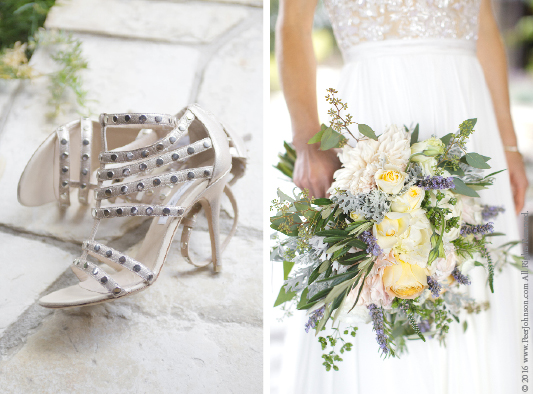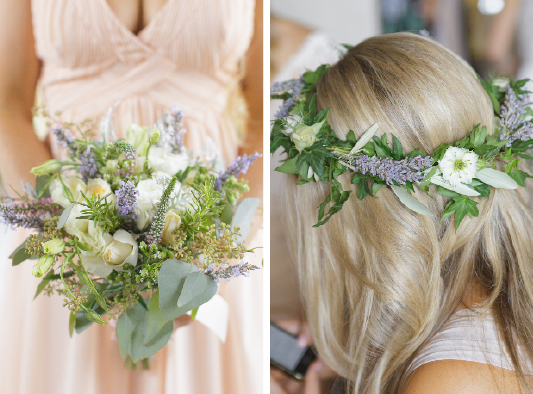 Floural Design was a beautiful creation by Melody of Fleurish Floral Designs (just worked her team last week on another gorgeous Carmel Wedding & it was equally spectacular).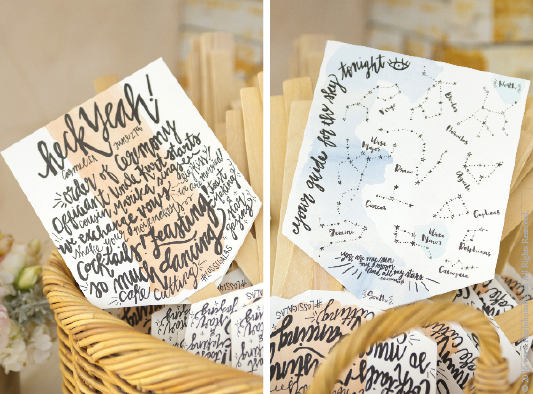 Wylie West Creative designed all stationary, gifts & signage. Guests were gifted: wooden maracas, jingle sticks, jingle bell tambourines, fans, noisemakers & streamers, as well as other goodies.

The ballroom at Tehama is a beautiful creation with earth tones throughout. Sliding doors & large windows on three sides allow guests to enjoy breathtaking panoramic views of Carmel Valley & Monterey.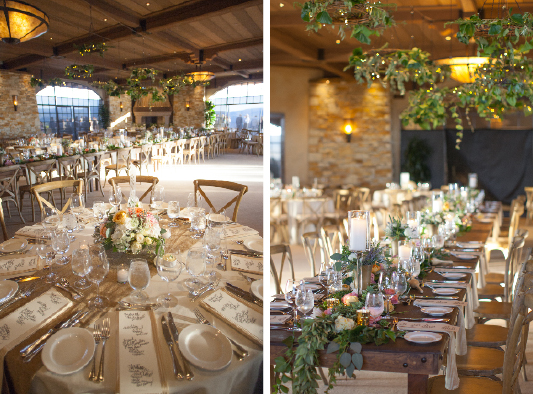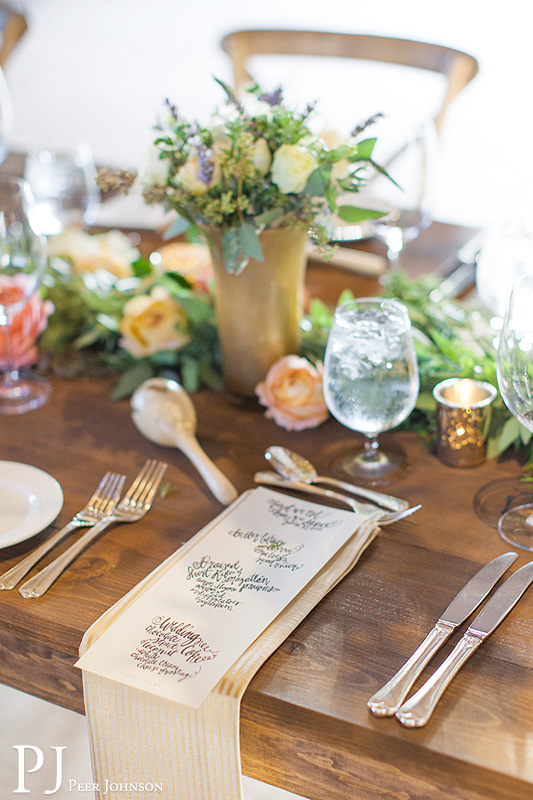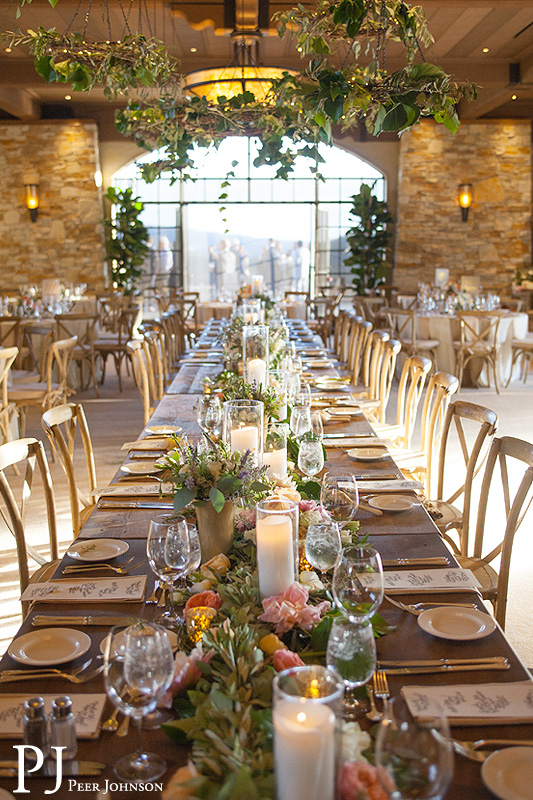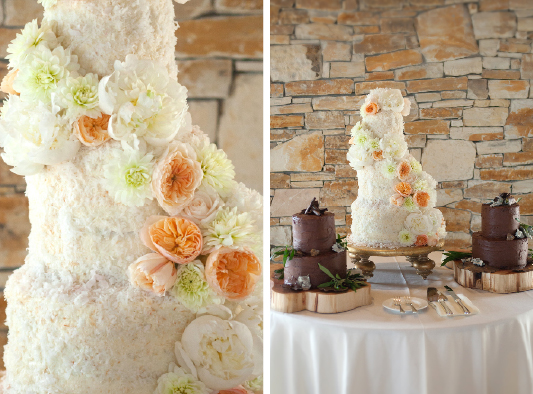 The cake was a custom work by Robin Redding. Coconut cake with white chocolate-cream cheese frosting & fresh flowers.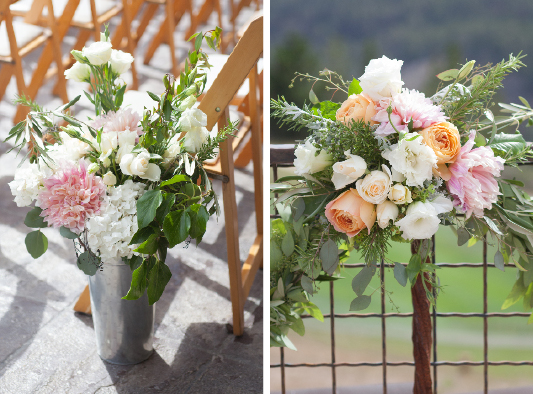 Light arrangements complimented the natural beauty of the ceremony site – a great choice.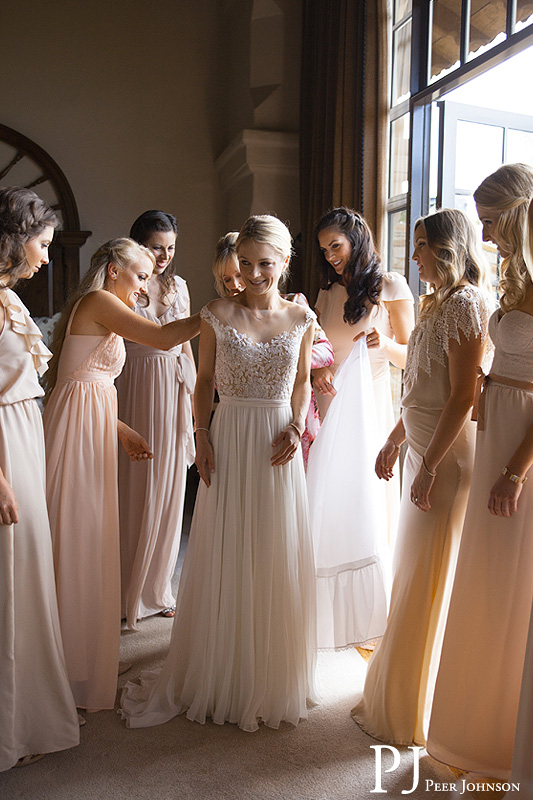 The ladies were able to handle the finishing touches in the comfortable suites at Tehama. I loved the large windows with ample natural light – a great resource to create beautiful & dramatic images:)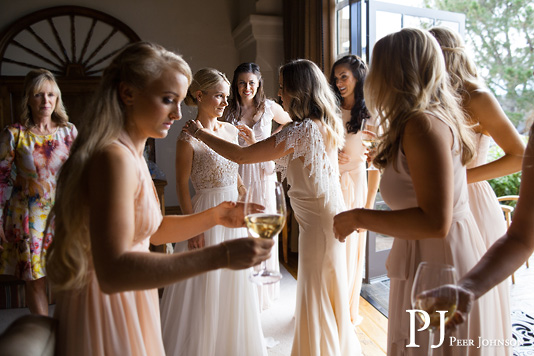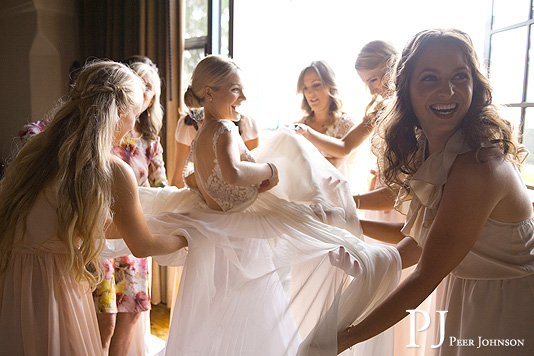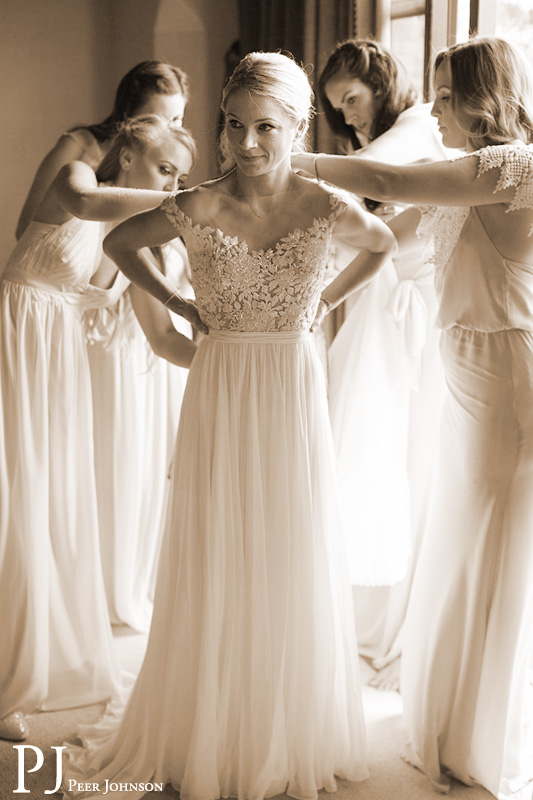 Some photographers believe that "natural"moments are the best. I've always been more of a realist. For example, I will move a table, a chair, ask someone to stand here-there then let them have fun & do their thing:) When you have 250 guests coming from all corners of the country, you have to be quick & good. Great wedding images can be helped along allowing the couple to maximize their facetime with guests & thus their enjoyment of the day – nothin' wrong with that:)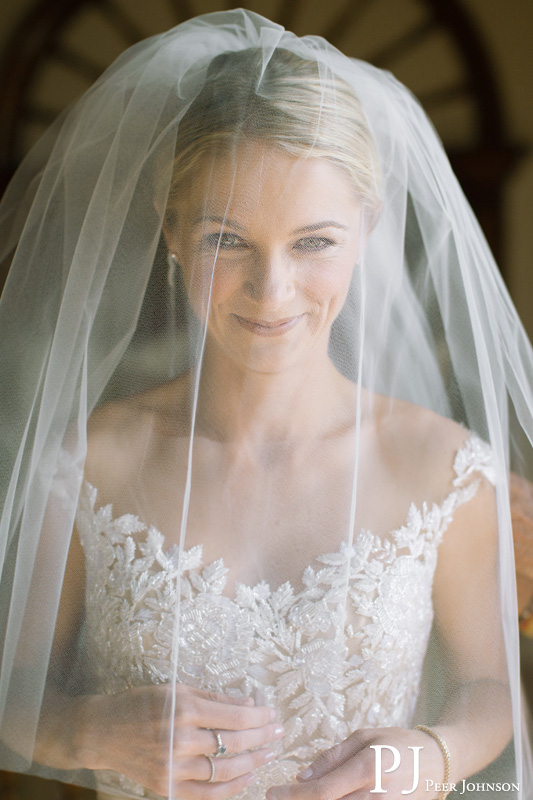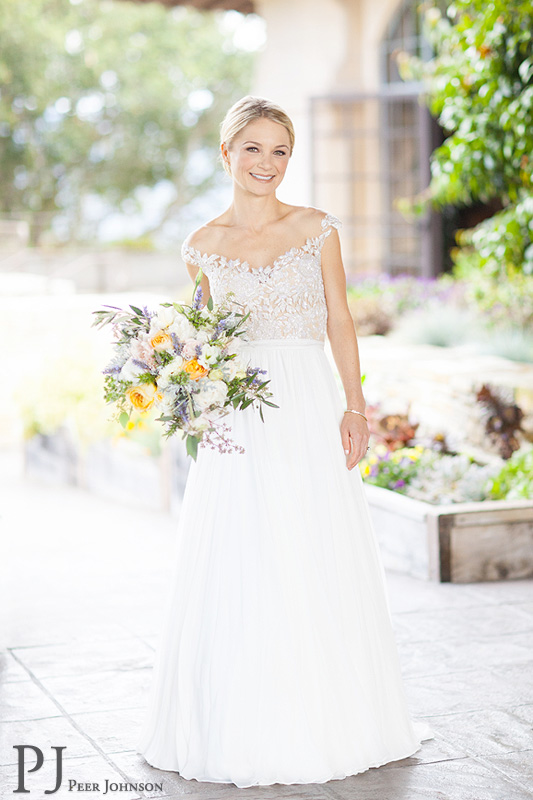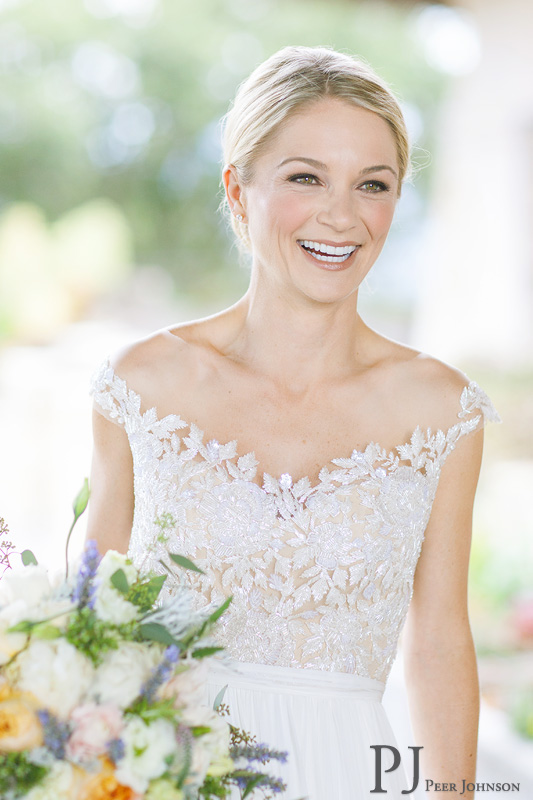 The Bride's dress was a stunning design by Reem Acra New York. A great choice.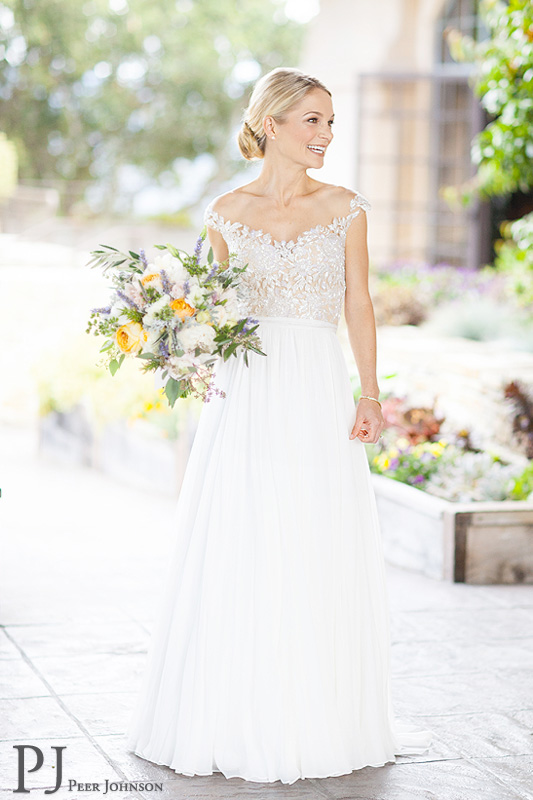 The bridesmaids expressed their individuality with different designs that were all within the same palate. A beautiful way to go.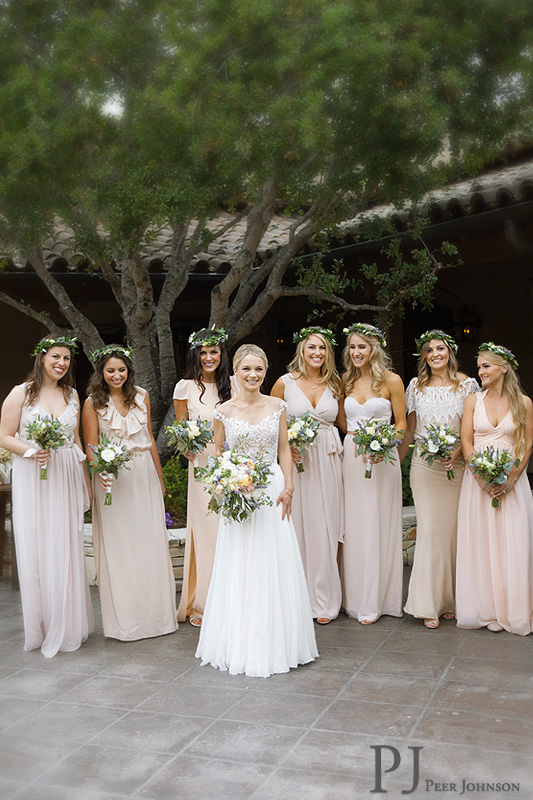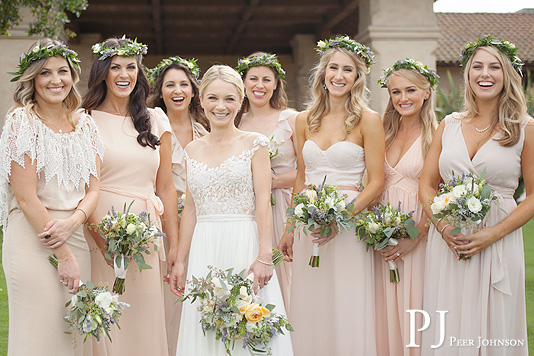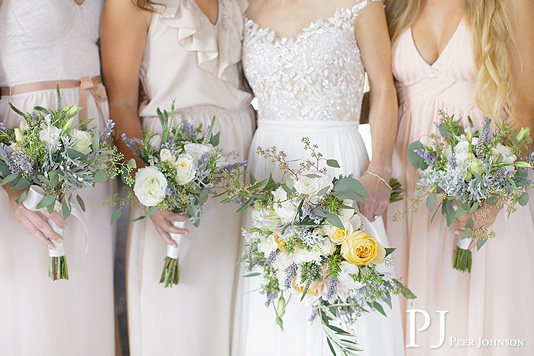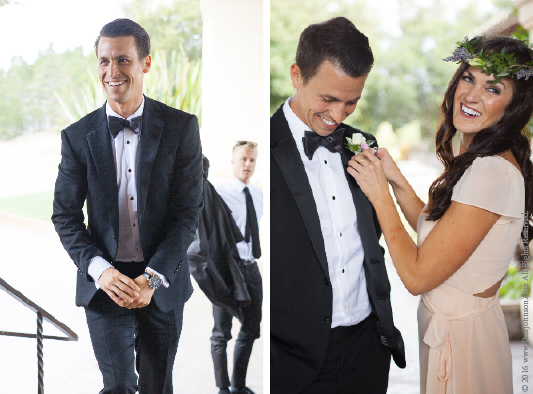 The guys hit the ground running. The groom's tux was Ralph Lauren Black Label & had timeless look.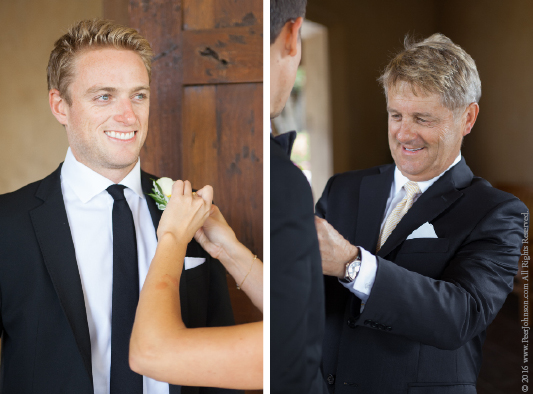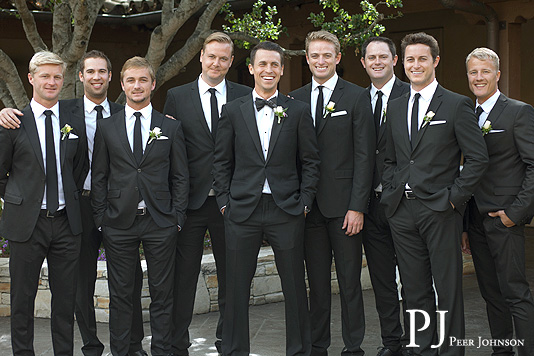 A handsome group of friends & siblings rounded out the cast of groomsmen. Looking sharp & ready to get on with the show:)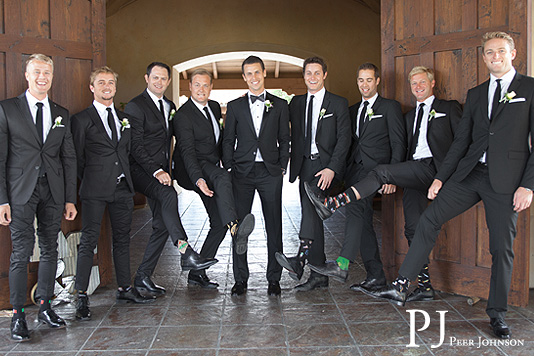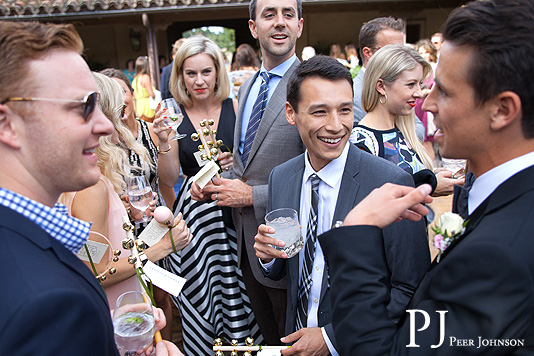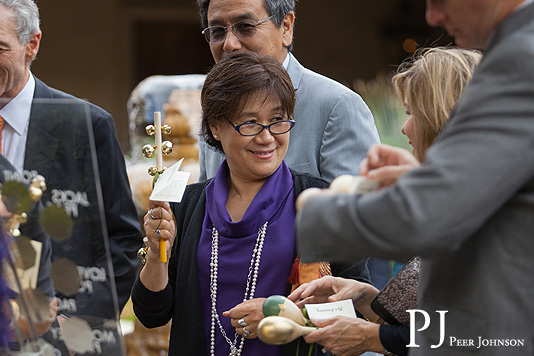 This is the reason why I always carry earplugs!!! A mischievous face on a happy guest:)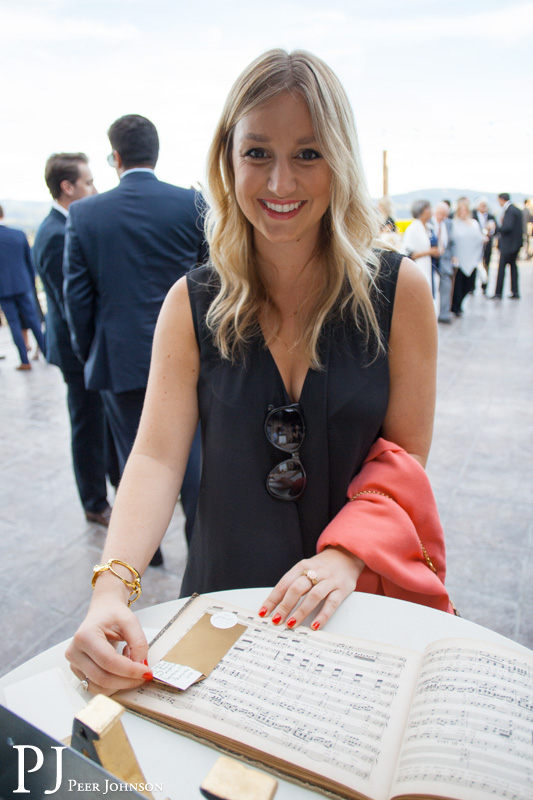 Guests dropped personal notes into a vintage sheet music book. One note per page for the couple to open every week for 200+ weeks. I think they must be only 1/10th of the way thru!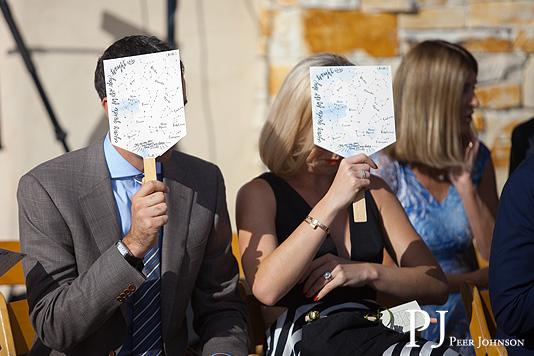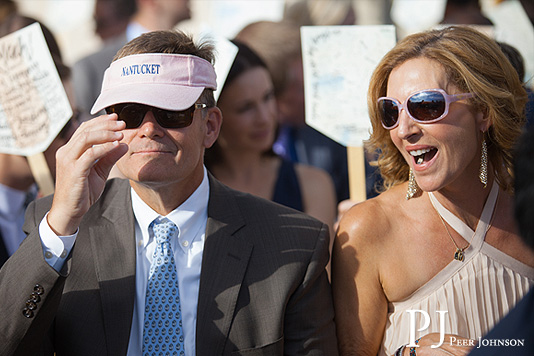 "We're out there having fun in the warm California sun!" Another realist!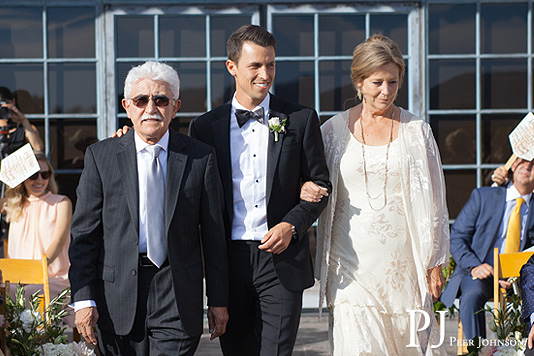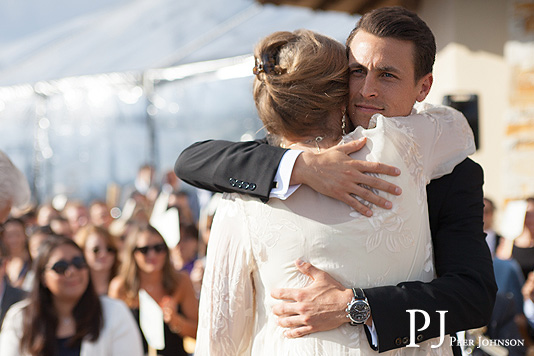 Beautiful! I love shooting hugs. It just says so much. Can't get enough of 'em!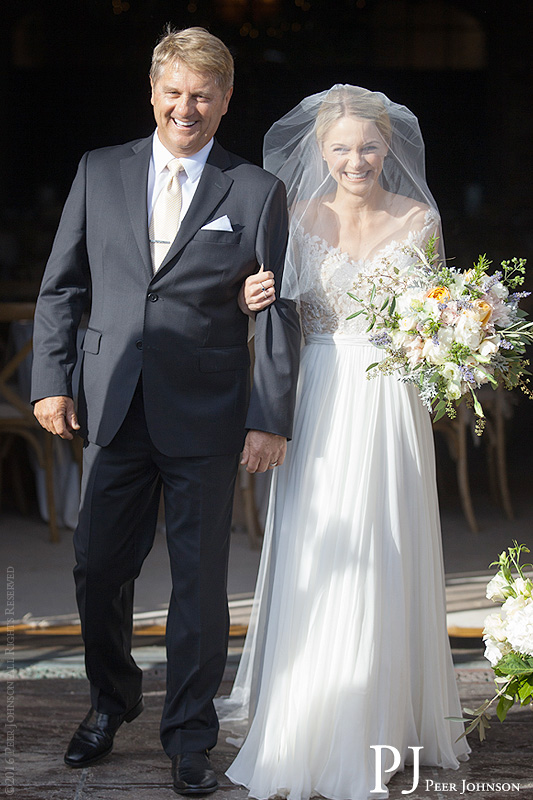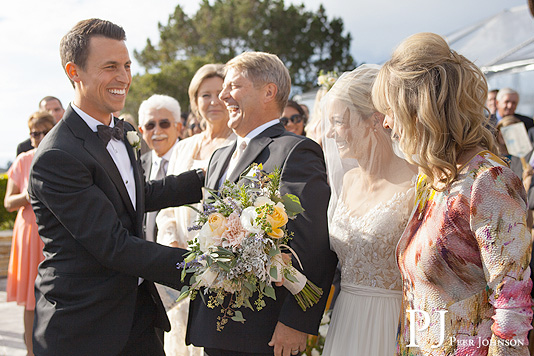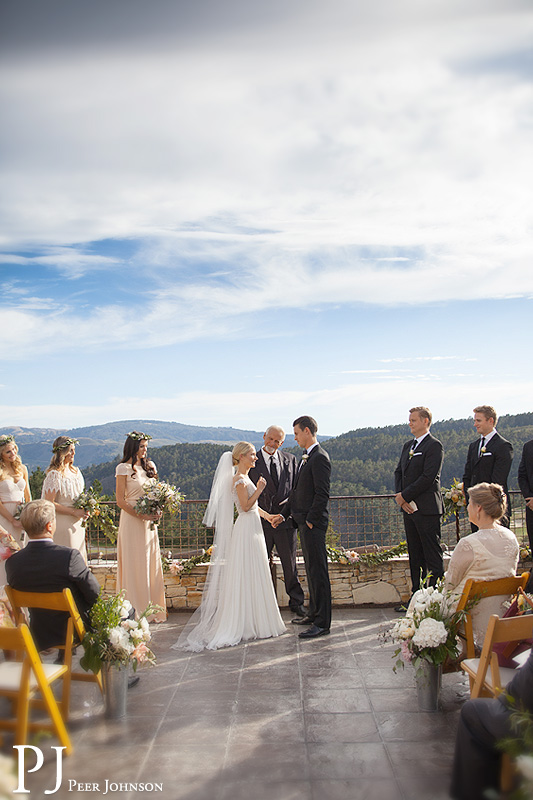 The Bride's Uncle is a full-time Minister. He led an emotional, meaningful, yet fun ceremony.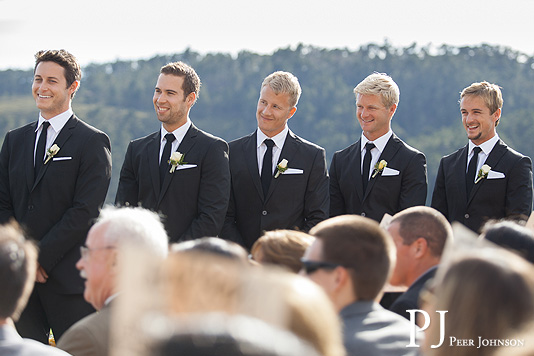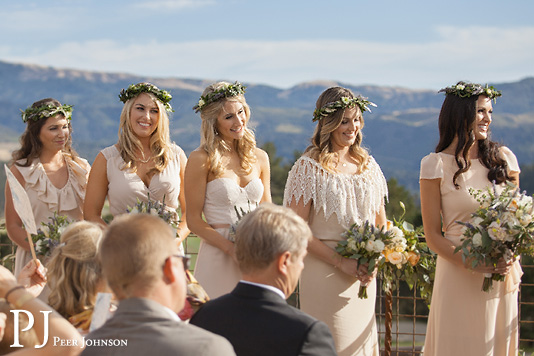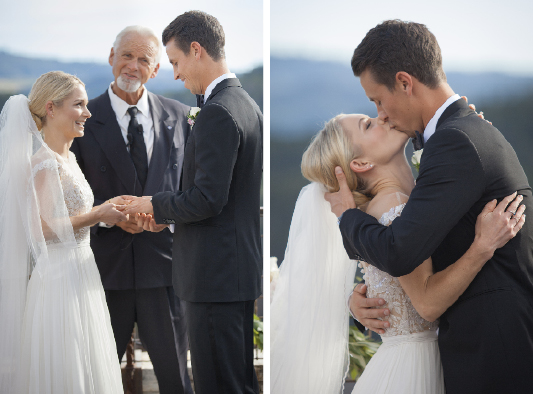 It's official, big congrats guys:)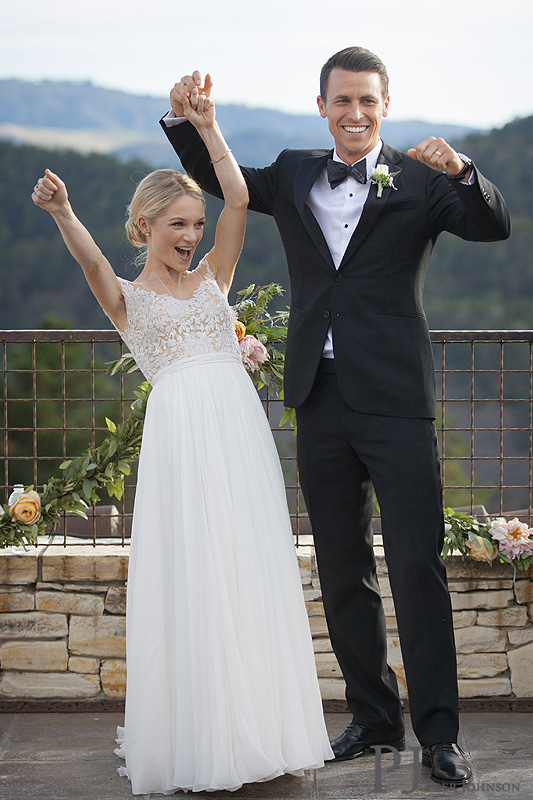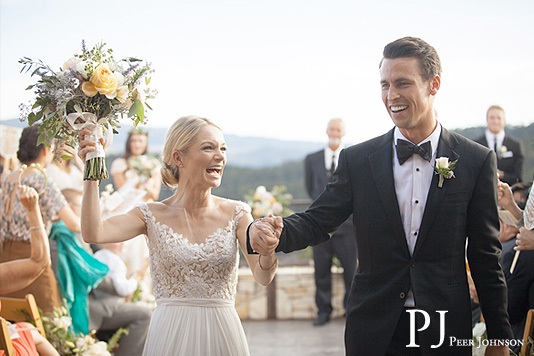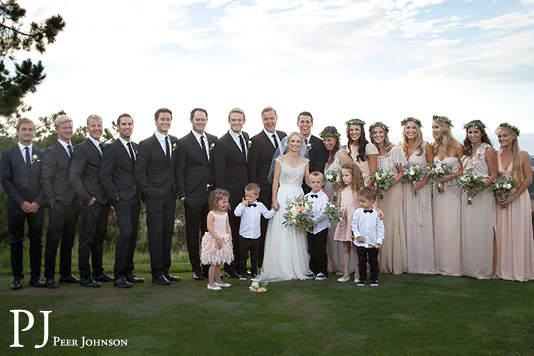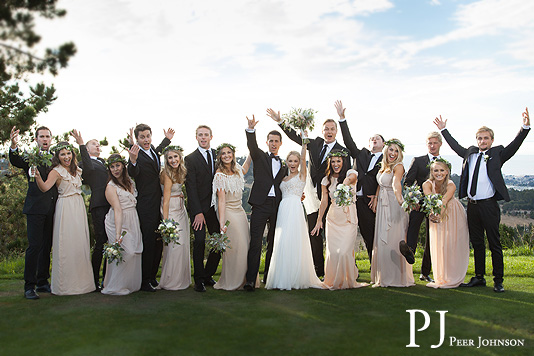 You have to do a "fun" one after the nice ones. This group was more than ready to make some noise.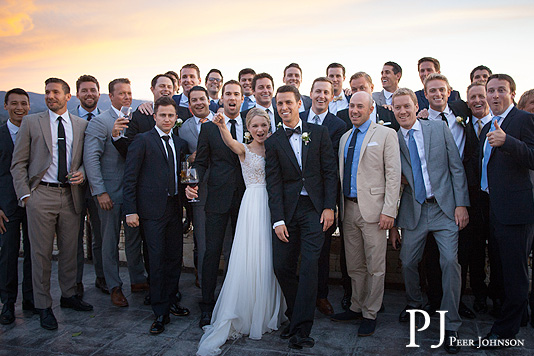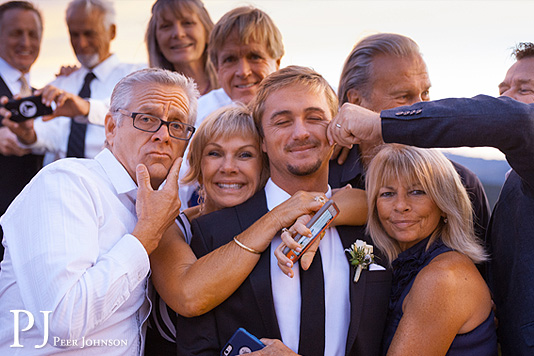 This poor lad was surrounded by Aunts & Uncles who loved to pinch his cheeks in younger days. He was a good sport although I believe it could have been worse if he struggled:) The word "no" was unknown with this group!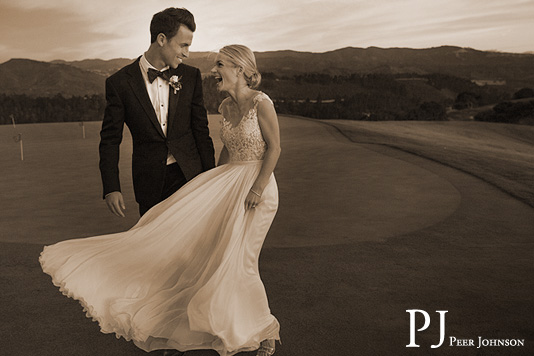 And then it happened…probably my favorite photo taken in 2015-6 (above). You really have to see an enlarged fine print to get the feeling of this image. We were walking back from a beautiful sunset, the happy couple was feeling everything at once. She turned & screamed, her dress was flowing in the wind, the groom looked over & was startled-excited by her energy. Everyone was that day. The picturesque Carmel hills fall off in the distance with the Valley below. I had a good friend who is a master printer run me a 16×20 of this image. You can feel the wind, the energy, the expanse, the love, the elation. It hangs on my wall in my office & it's spectacular.

A tighter crop of the sepia image above.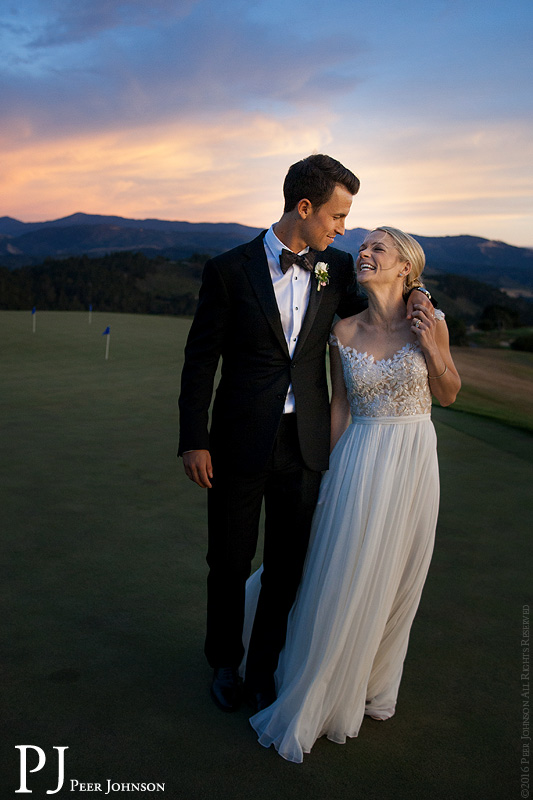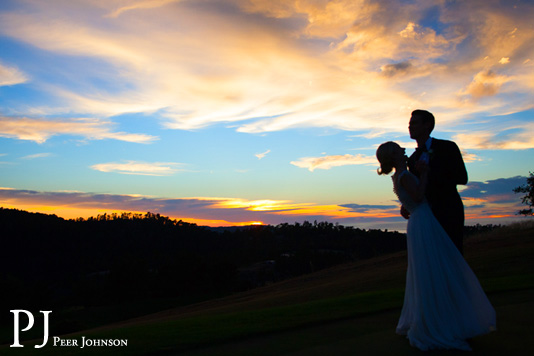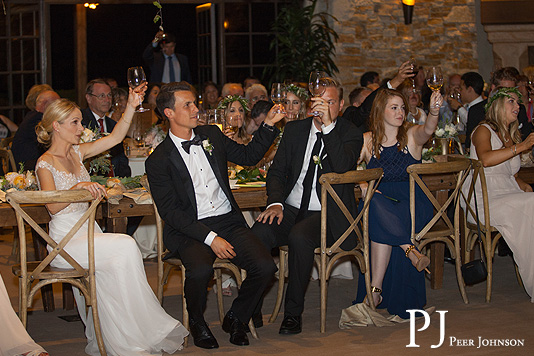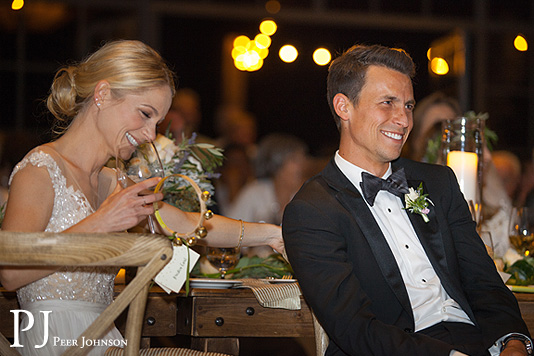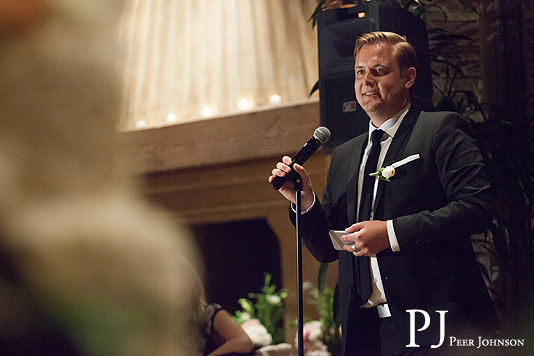 Roasts boasts & toasts, the way it should be:)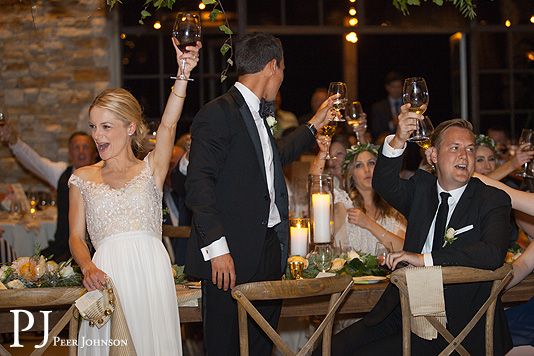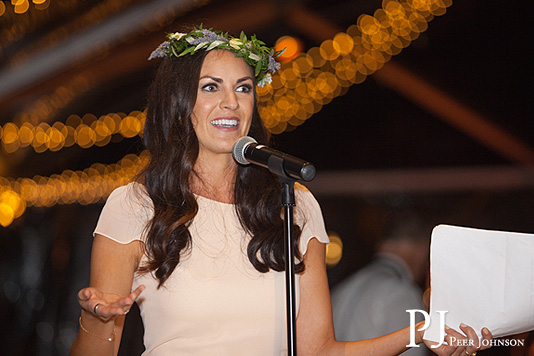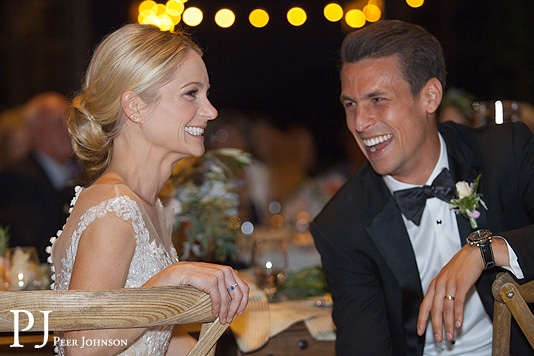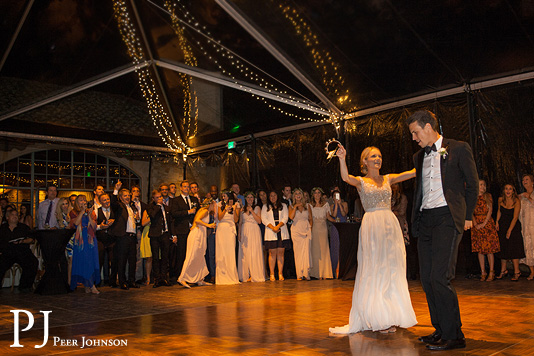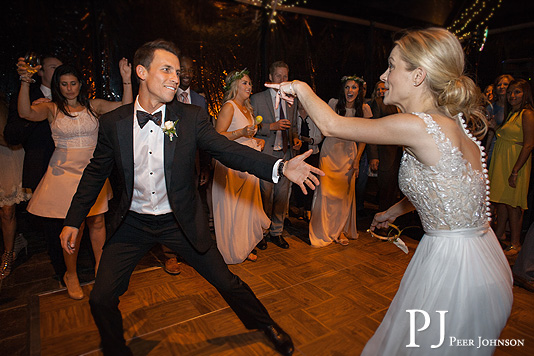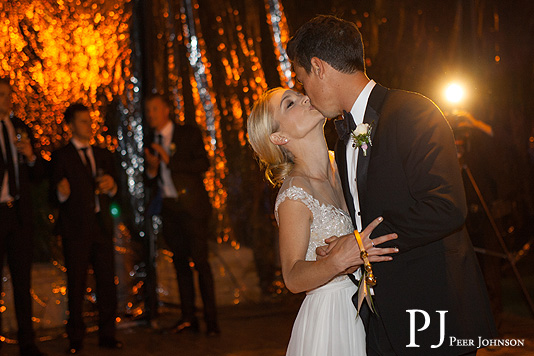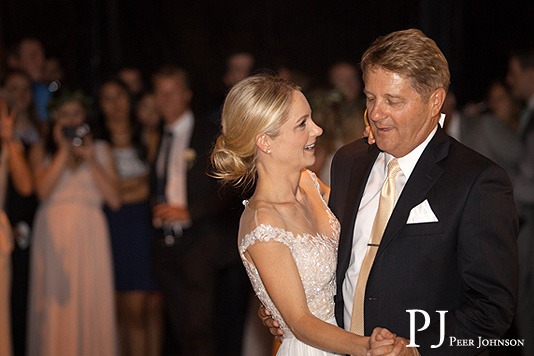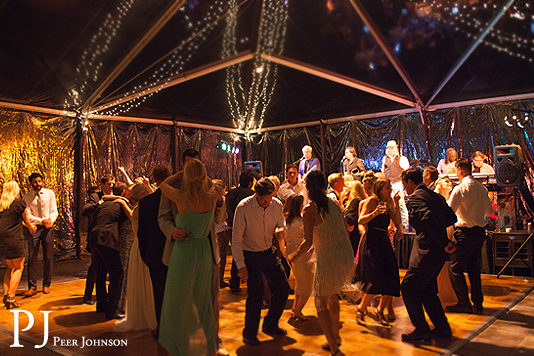 The Pine Mountain Logs are a great band for a wedding. They played anything & everything, and did it all justice. Give them a buzz if you want an unforgettable night.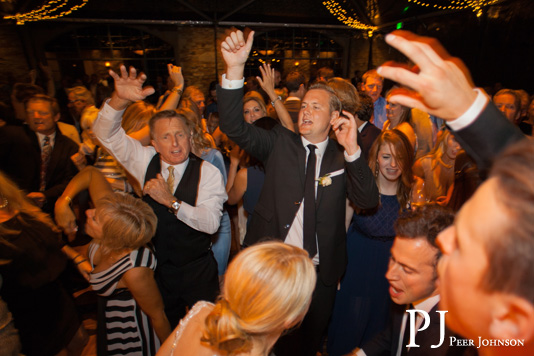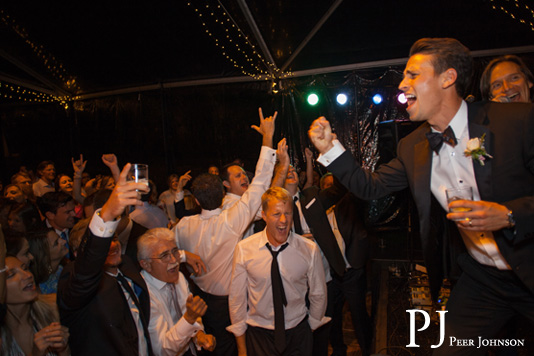 The groom was a HUGE Springsteen fan & there's only one way you can sing The Boss – onstage, as loud as you can go, with your friends singing along. I think Clint heard it across the canyon!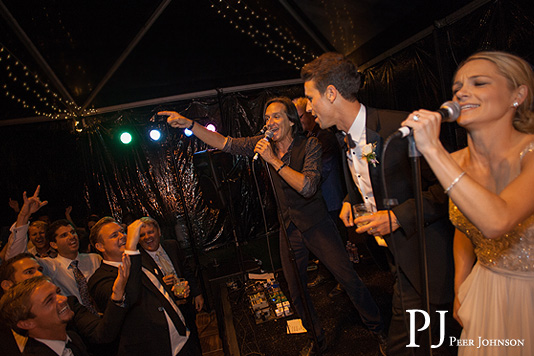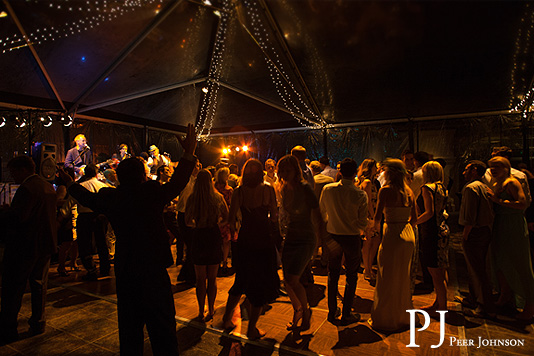 The happy couple and a few hundred of their close friends danced the night away. Parting gifts were offered & it was a great ending to an unforgettable day. I was honored to document it & play a special part. Thanks for calling me guys!!!!
Photography: Peer Johnson Photography contact me here
Location and Catering: Tehama Golf Club
Coordination: Cheryl Fournier for Tehama
Flowers: Melody King of Fleurish Floral Designs
Brides Dress: Reem Acra New York
Groom's Tux: Ralph Lauren Black Label
Stationery: Wylie West Creative
Officiant: Kurt Dahlin
Cake: Robin Redding
Music Ceremony and Cocktails: Monterey Strings
Music Reception: Pine Mountain Logs
Hair and Makeup: Chioma Salon
Transportation: Main Events Transportation